Deepen Your Faith
We have curated a space for renewal and support to clergy and all others of the faith to rest, reset, and soar!
Get Involved
Want to get involved in our mission? We welcome like-minded people to jump in with us!
Come See!
Want to come see for yourself the progress we have made and if the retreat center is a good fit for you?
REST . RESET . SOAR .
At Eagle's Wing Ministries, these three simple words encapsulate our mission and vision. We invite you to REST, to pause from the hustle and bustle of life and find solace in our tranquil sanctuary. RESET your priorities and rediscover what truly matters as you connect with your faith. Then, equipped with newfound strength and purpose, prepare to SOAR like an eagle, rising to new heights of spiritual growth and fulfillment. Join us on this transformative journey, where RESTing leads to RESETting, and together, we SOAR in faith.
Plan a visit
JOIN The mission
Lots of Ways to Get Involved.
Make an impact through your generosity. Your financial contributions enable us to continue our vital work in nurturing faith and providing spiritual renewal. Your gifts become a source of hope and transformation for many.
Join us in the power of prayer. We ask that you keep us and those who seek us out in fervent prayer. Pray for God to touch those who need a renewal of faith and to give them strength during trying times.
Be the heart and hands of our ministry. Whether you possess unique skills or a willingness to help, your involvement matters. Join us in making a meaningful impact through your time and talents.
Ministry News
The Latest News & Updates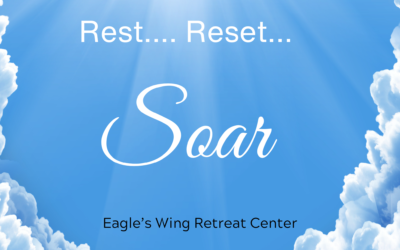 Rest. Reset. Soar!There are a lot of great "re" words for a retreat center to use: rest, renew, restore, reset, revive. As we were thinking through a "tag line" of sorts we knew we wanted to convey the idea of a place of rest and renewal. While we were tossing ideas...